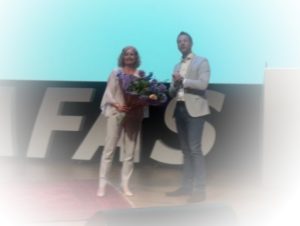 Last night I arrived home tired but happy from a business trip to Holland. I was there to see Christian Kromme, launch his book. It was a project that we had worked on together for over a year. Christian had taken me on to help him structure, plan and write the "Humanification – Go Digital, Stay Human"
Thanks for the on stage recognition and flowers Christian, it was most kind and totally unexpected!
Now, Christian K is one seriously bright cookie (see the pic below of him explaining the development of brain power). What did stump him though was writing a book about his discoveries. He knew WHAT he wanted to say, but when he tried to say it on paper the ideas came out as thought spaghetti. In came the cavalry; yours truly. It was a delight working with him to bring his ideas to life and his book has already made the front pages of two national business magazines in his native Holland.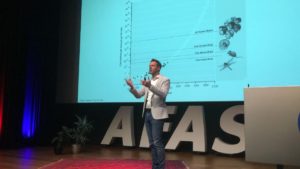 Success doesn't have borders though and he told me yesterday that he has been asked by the Dutch Government to promote the book for them in Hong Kong and China to showcase Dutch creativity and expertise.
Christian had a great idea, developed a powerful framework for solving problems, invested in expert help and is seeing his profile and speaker fees catapult into the big league. I'm delighted to be working on the next project with him too – so watch this space.
Are you ready to write that book yet? If you are I'm only going to take on 2 new clients this year so if you have thought about being one of them then you might want to get your name down now! Just hit "reply" to this email and let me know. From there we can arrange to have a chat about what you are trying to achieve. If we are a fit then we can take it from there.
The other thing worth letting you know about is where I spend most of my time these days; business & leadership consulting. If you have a business that's not reaching its full potential and you have considered investing in regular mentoring but haven't done anything about it – then maybe this is the signal from the universe you have been waiting for. I don't advertise, I don't claim to do million dollar launches or work with a gazzilion people – but what I DO do is work with a handful of selected entrpreneurs and medium sized business owners to help them solve problems and move forward. If that's you, and you would like to talk about it (with a view to doing something about it), then hit reply and let's talk.
So that's it for today. I'm welcoming house sitters next week and buzzing off to the sun to two weeks lounging on a beach and starting my next book. Mexico here I come!
Best wishes,
Sophie.
p.s. I am limiting my client intake WAY down, so if you have been sitting on the fence about talking to me, don't leave it any longer. I'm likely to be closing the doors and focussing on the big projects so GET IN TOUCH if that's something you have been meaning to do…